---
Aurora in Leeds, 30 October 2003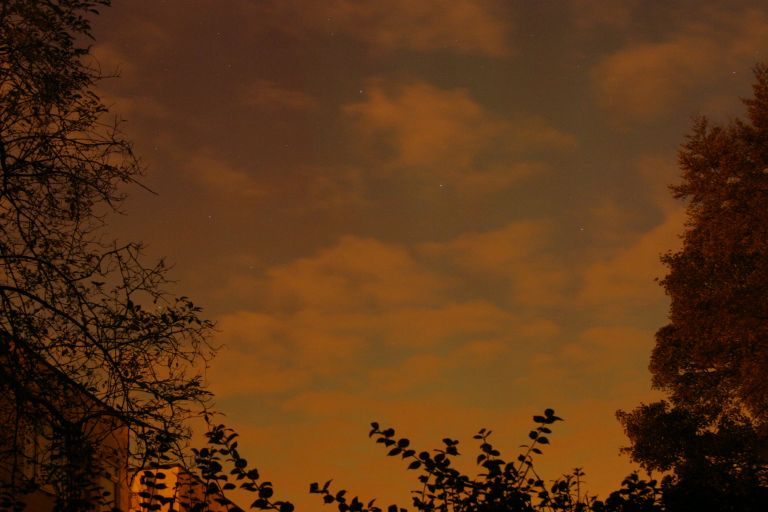 Leeds aurora 30 October 2003 [Leeds UK, 0:47:58am Thu 30 Oct 2003; Canon EOS 10D digicam]
Following a spectacular solar flare on 28 October, much of the UK was treated to a splendid auroral display when the CME (coronal mass ejection) hit the earth a day later. It was even visible from our heavily light polluted back garden in Leeds, UK, and is our first aurora sighting.
This picture, a 15 second exposure with a Canon 10D taken looking north, has not been processed in any way; it has just been scaled for the web. You can clearly see the eerie green glow silhouetting the clouds, and reddish rays extending upwards. The white dots are stars, of course.
There will be many far better pictures of this display posted to the web over the next few days, but this is our first, and we never expected to see an aurora from Leeds at all. A wonderful treat!
IMG_1362/JPG

Taken :
0:47:58am Thu 30 Oct 2003
Camera :
Canon EOS 10D
Size :
3072 x 2048 pixels
Filesize :
2997 Kbytes

shooting information
Exposure :
15 sec at ISO800
f :
5.60
Focal length :
32.00mm
Bias :
0
White balance :
Auto
Metering :
Pattern
Flash :
Not fired
Orientation :
x0,y0=left,top
Compression :
3

canon information
Image number :
001-7250
Sequence number :
0
Quality :
Fine
Image size :
Large
Contrast :
Normal
Saturation :
Normal
Sharpness :
Normal
Macro mode :
0
Self-timer duration :
Off
Digital zoom :
Off
Flash mode :
Off
Flash :
Not fired
Flash bias :
0
Easy-shoot mode :
Manual
Focus mode :
Manual
Focus type :
2
Subject distance :
65535
Focus mode 2 :
65535
AF point selected :
0
AF point :
(0 focus points)
Metering mode :
Evaluative
Exposure mode :
Manual
ISO :
0
White balance :
Auto
Continuous drive mode :
Single shot / timer
Image type :
IMG:EOS 10D JPEG
Owner :
Lee and Chris
Serial number :
259143675
---
© Lee Montgomerie / Chris Terran 2003
All images are copyright and may not be reproduced without permission
---